You're probably reading this blogpost because you're planning to visit Japan very soon…exciting!!! What follows is an overview of my learnings and tips after having spent 3 months in the world's most inspiring city ;-).
Start at the top or just straight to:
Common customs
Let's start with the basics: even though the Japanese can clearly tell you're a foreigner, you may still want to adapt a little to their customs to respect Japanese culture.
The group is always more important than the individual. Remember that contrary to Western culture, in Japan people always place the group higher than the individual.
This results in the following tips:
Keep your voice down in public transport. You'll notice that most people in the train are quiet, or talk quietly (or sleep). It's disrespectful to disturb others.
Do not eat in public. Another unwritten rule is that you're not supposed to eat on the street. The idea is that it's not nice to see someone eat, hence you're supposed to eat at home or in a restaurant. Personally I had quite some difficulty with this unwritten rule, as in Amsterdam you can just eat a banana or whatever else whenever and wherever you feel like. So while in Tokyo, whenever I really had to eat in public, for example right before going to a meetup, I would find a place not really visible to other people and quickly finish my sushi. Clearly not ideal…
Be quiet at your hotel. Again, do not disturb the people you're sharing the hotel with. Be as quiet as possible. That means whispering, especially at night. Lots of houses are built with wood, hence it gets noisy quickly. At the apartment where I was staying, I sometimes had to tell Dutch travelers to be quiet as they were talking to each other as they would in the Netherlands. For Japanese people, it practically sounded like shouting.
Do not look other people in the eye. I never really knew where to look at when talking to someone. Apparently it's offensive to look Japanese people in the eye, so try to avoid it.
Other customs
Don't be direct. Most Japanese people are really indirect. They will never tell you if they don't like something. If you're offered something, first politely decline it, to accept it humbly thereafter. A nice example: right before going to Japan I had discovered the blender (pretty late discovery indeed), with which I could make great smoothies. So every morning at 08:00 AM I would make my smoothie. After a couple of days, I talked to one of my roommates and asked her whether she was disturbed by the sound of the blender. She told me she wasn't, but that there were other people still sleeping at 08:00 AM who might hear the sound upstairs. That was the last time I made smoothies in Japan ;-).
Take off your shoes at the entrance of the hotel. The Japanese are really clean, and keeping your shoes on will take the dirt from outside into the house. So try to remember to always take your shoes off immediately.
When communicating with Japanese virtually, use lots of emojis. This is really funny. The Japanese just use lots and lots of emojis when communicating.
Key phrases: how to make it around without speaking a single word of English 😉
Remember that hardly any Japanese person speaks English (even in Tokyo!). Here are some key phrases that will help you make it around anywhere. Take note, these will come in handy 😉
Konnichiwa – hello.
Sumimasen – Sorry. This must be the most important phrase in Japanese language. It's common to apologize for everything. Use this phrase whenever you feel you did something that might be slightly offensive to the local crowd.
Kore-wa, nan desu ka? – What is this? ('Kore' means 'This', 'nan' means 'what'). I used this sentence mostly when looking and pointing at food, and trying to determine whether it was meat or something else that I was looking at. Thereafter, I would use sign language to decipher the answer.
Eigo-ga, hanashimusu ka? – Do you speak English? ('Eigo' means 'English'). If you hear 'iiiiiiieee' as a reply, it means 'no'. 'Hai', means 'yes'. There's a 99% chance that you will get a no, but it's worth trying in some situations.
Arigato – thanks. Speaks for itself :). You usually bow when saying thanks. The deeper you bow, the more respect you show.
Shinjuku station-wa, arimasu ka? – Is Shinjuku station nearby? A very useful phrase when you're lost. And trust me, getting lost is common 😉 Insert any place before -wa ('wa' means that the word before it is the topic of the sentence). Try to use hand gestures to determine whether to go left or right.
Totemo oishii desu – it's so tasty! Use in restaurants when you want to thank the staff for the good food. They will really appreciate hearing this, especially coming from foreigners.
5 must-do things in Tokyo
There are really lots of places to see, eat and do in Tokyo, but if you're really pressed on time, then these are the absolute must-do's!
Go to Genki Sushi for dinner. I cannot tell you what happens in this place, only that it was one of the craziest and coolest experiences I've had during my stay. An absolute must! Do NOT Google beforehand ;-). 5-min walk from Shibuya station.
Go to an izakaya. Izakaya is the Japanese word for 'bar'. Generally this is where you'll find the best food.
Go to a 100-yen store. 100 yen equals about one euro, so in this store you'll find all kinds of stuff for one euro. It may not sound like an exciting activity, but considering that in Japan, they really have stuff that you'd never imagined, this is an extremely fun activity! Go to Tokyu Hands Shibuya. Start at the 5th floor and work your way down. You'll have the time of your life :-P. Optionally you can combine this with dinner at Genki Sushi, as the two are a 5-min walk away from each other.
Go to an onsen. An onsen is a hot bath. The nicest onsens are baths from natural resources. In Japan people are accustomed from a young age to have hot baths together with the family, naked. You really have to get over the fact of being nude, but once you do, you'll have an amazing experience ;-). Before you get into the actual hot baths, it's common to clean yourself in the shower. In this way, the hot baths don't get dirty.I'm cheating a little bit here, but the nicest onsen I've been to is called Tenzan and is located in Hakone, about 1,5 hour by train out from Tokyo. It's situated in the mountains and you'll be extremely relaxed once you get out. Men and women are separated. Entrance is about 8 euros. More on Hakone below.If you don't have time to go to Hakone, then visit the Laqua spa, right in the city center inside the Tokyo Dome, at the central train station Iidabashi. This place was recommended to me by a Japanese friend from Tokyo. I'm assuming that men and women are separated here as well, but I'm not sure. Entrance is about 22 euros.
Visit a Japanese drugstore for beauty products. Just like with the 100-yen store, the Japanese drugstore also has the craziest beauty products. Visit one and see for yourself. Below an overview of some of the most popular products, referenced by Asian vloggers ( I spent lots of time researching this :-P).
Japanese beauty
Japanese beauty is hot! How do Japanese women manage to keep such great skin looking like a teenager for a large part of their life? I've spent hours and hours checking out Youtube vlogs to figure out these best kept secrets. Here is an overview of the products I couldn't resist, and some vlog tips if you want to get to the bottom of it!
After having spent hours watching vlogs, I'm pretty sure Melodee Morita (below) is the most famous one and shares the best tips. She also has some great tips on how to treat your skin. Highly recommended to watch, it's very entertaining 😉
The vlogger below also shares great tips. Some of the products are similar to what Melodee is suggesting, so you can cross-reference 😉
Food: must-eat dishes
There is no place in the world where you'll have better food than in Japan. Sushi elsewhere will never taste as good as it did before, so better have an extended foodbudget while there 😉
Okinomiyaki – the Japanese version of pancakes. These are salty pancakes made from vegetables and fish or meat. Top them off with a special mayonnaise. Highly recommended. The nicest experience I've had eating okinomiyaki was in the Kagurazaka area, at かめちゃん (Google didn't provide a translation here :p). You can make your own pancakes, and you're traditionally seated on pillows. A 6-min walk from Kagurazaka station.

Other food recommendations that we eat in Europe too but doesn't taste half as good as in Japan: sushi, tempura, ramen, and soba, and lots more which I forgot the name of 😉
One of my favorite deserts/snacks in Japan were pastries with Red bean paste – in Japanese called 'anko'. A MUST!
Food tips and interesting facts
To get the most foodvariety per square meter, go to a department store and then head to its food floor.From 6PM onwards, expect major discounts on fresh dishes! A really great phenomenon is that the Japanese focus on extremely high quality of food. This means that they won't preserve food from the previous day. As a result, towards the end of the day everything gets heavily discounted. This means sushi for extremely low prices 😛 !!! A fun fact is that sushi shops will not close until they sell their last discounted sushi box. At the sushi shop near my place, I used to wait until 08:30PM for the best discounts 😛
When eating soup, slurp to show that you like it. I never really got used to this, but give it a try 😉
The fruit is huge. You'll notice that every piece of fruit you buy in Tokyo is huge, even grapes are. That's because the Japanese wrap each piece of fruit so that it can grow as much as possible. You can imagine that this makes it very expensive. For three months I hardly ate anything else than bananas, and suddenly appreciated low fruit prices in Europe much more 😉
The Japanese know how to merchandise their restaurant. You'll find their entire menu in plastic in the restaurant window. Mindblowing how real it looks.
The Japanese version of Febo is a restaurant where you order and pay for your dish outside the restaurant, and eat in inside
Must-see areas: in order of recommendation
Local experiences
I've encountered a few of my greatest experiences in Tokyo by meeting local people. Don't hesitate to check out Meetup.com in case you're interested in something specific.
Enjoy a sake tasting experience at Sakeoh
If you're into sake, let me know, I can get you in touch with Matsumoto who owns a famous sake shop. Beware: about 50 minutes travel from Tokyo center, but definitely worth it for a local experience. To give you an impression, here is the route from Iidabashi station to his Sakeoh shop.
Visit a kendo training session in Koiwa (suburb of Tokyo)
If you're curious to see some kendo, also contact me! I can get you in touch with my former kendo teacher who would love for you to stop by his kendo school in Koiwa and experience a kendo class. Beware: again about 40-50 min travel, but very worth it!! If you decide to go there, don't forget to take off your shoes at the entrance, bow when greeting the teachers, and sit up straight when you watch from the sidelines.
Itineraries for specific areas in Tokyo
Shibuya area – 1 to 2 days. Metro station: Shibuya
Take one day. Check the entire itinerary here. Please beware: I've plotted the route on Google Maps, but don't follow it blindly. If I've indicated to walk into a street, please follow the signs rather than Google Maps pointing you from suggestion to suggestion in my itinerary
Start the day walking from Shibuya station through to Tomigaya and Kamiyamacho area. You'll pass the famous Shibuya crossing! Tomigaya is one of the quieter, nicer, areas in this region. This article convinced me to go here, I encourage you to read it as it contains many great tips :-). You'll pass plenty of nice shops as well as bars and bakeries to have a nice breakfast.
Walk towards Tokyu Hands to explore all the weird stuff that Japan has to offer. One of the funnest activities you can do in Tokyo!
To experience Japan's excellent service, walk into the department store Seibu Shibuya and go to the beauty department. Go to a random beauty brand and ask to try out a cream. Watch what happens, it's an incredible experience 😉
Then head to Cat Street. This is one of the hippest and trendiest streets I've seen! Lots of hipsters go here, so it's a great place to check out cool Japanese outfits (There are no cats ;-)).
From here, walk towards Harajuku, Takeshita street. On the way to Takeshita street you will pass by lots of really nice, but really expensive stores. This is the most famous street in Harajuku, you will find girls in crazy dresses. In real life it's not that special, but nonetheless this is a must-see.
Then head down to Omotesando. The Nezu museum has a fantastic garden, highly recommended. Omotesando is the posh area.
Then head back to Shibuya and go for a crazy sushi experience to Genki Sushi.
Kagurazaka + Chiyoda park – the French area. Metro station: Kagurazaka or Iidabashi
Go here on a SUNDAY afternoon (arrive around noon) + evening for a really nice French vibe. The Japanese love France, and Kagurazaka has some French touches. Sunday is the only day that the vibe is really great, because they close off the street for pedestrians. Check the entire itinerary here .

Main Street to explore is Kagurazaka street. Get off at Kagurazaka station and start at La Kagu – really expensive store with the most beautiful clothes, and a great cafe. Be inspired by Japanese focus on detail 🙂 Also, for fun, try a clothing item. You'll be in for an experience.
Pass by Ayumi's gallery. My Japanese friend from whom I rented my flat while residing in Tokyo. Free entrance.
For a nice and super cute bakery, head to Kameido. The backstreets of Kagurazaka street are really cute! Explore!
For some of the best pastries in town, don't forget to pass by Baikatei. Super high quality, highly recommended.
If you fancy a drink by now, head to the Canal Cafe and make sure to sit outside. Great view next to the water. Check out the metal statue of a boy on the way there. If you find him, he will probably be properly dressed for the day. During the 3 months that I lived in Kagurazaka street, it was always a mystery who dressed him.
Head all the way down to Chiyoda park, doable by foot. Chiyoda park (FREE access) has a beautiful Japanese garden in the middle of the park, one of the few with free access. There are really nice karpers (fish) in the river. Ask for directions in case you can't find it!
Walk back to Kagurazaka to have okinomiyaki (the Japanese pancakes) in the evening, at this restaurant: かめちゃん. A 6-min walk from Kagurazaka station. On the way, check out the traditional smoking place on your right hand side.
Fish market. Metro station: Tsukiji
A must do! Half a day.
First go to the fish market. You'll be amazed! Afterwards, head to the food market which you'll find right outside the fish market. Also a great place to buy small pottery for gifts etc. This trip may sound boring but you will see fish that you never knew existed. Really highly recommended to go here. Just make sure you're on an empty stomach, you might not like everything you see 😉
Vintage area – if you're into vintage shopping. Metro station: Koenji
Head to Koenji area. Half a day. Great to see a different side of Tokyo.
One of the best vintage shopping areas, but pricy! Remember, the Japanese like quality 😉 Not at all like Paris where you pay 3 euros for a great sweater…
Hakone – spa city:-)
One day to really relax. 1,5 hours from Tokyo, but definitely worth it!
Hakone is the getaway town for people who live in Tokyo. It's a spa location. Arrive early and head all the way up to visit the Hakone OAM museum, which is on top of a hill. Great experience with a little train, but it takes time. Alternatively / In the afternoon/evening go to Tenzan spa, located in Hakone center. It's situated in the mountains and you'll be extremely relaxed once you get out. Men and women are separated. Entrance is about 8 euros.
Electric city Akihabara. Metro station: Akihabara
One evening will do.
No special tips, I would go here for one evening, exploring the Kawaii girls (girls that are dressed like dolls, to lure men into bars), and the crazy electric stuff the shops offer. A great place if you want to visit a maid cafe (haven't been myself). Other than that, it's not too special. If you're really not into tech or maids, you can skip this.
Ueno – Metro station: Ueno
If you're into seeing a completely other side of Tokyo. More local than Shibuya etc.

Also head to the National museum, they might have great exhibitions. Van Gogh once exhibited here!
Art
Prior to going to Tokyo, always check whether there is an exhibition of Yayoi Kusama. The most famous artist of Japan who creates the most beautiful sculptures.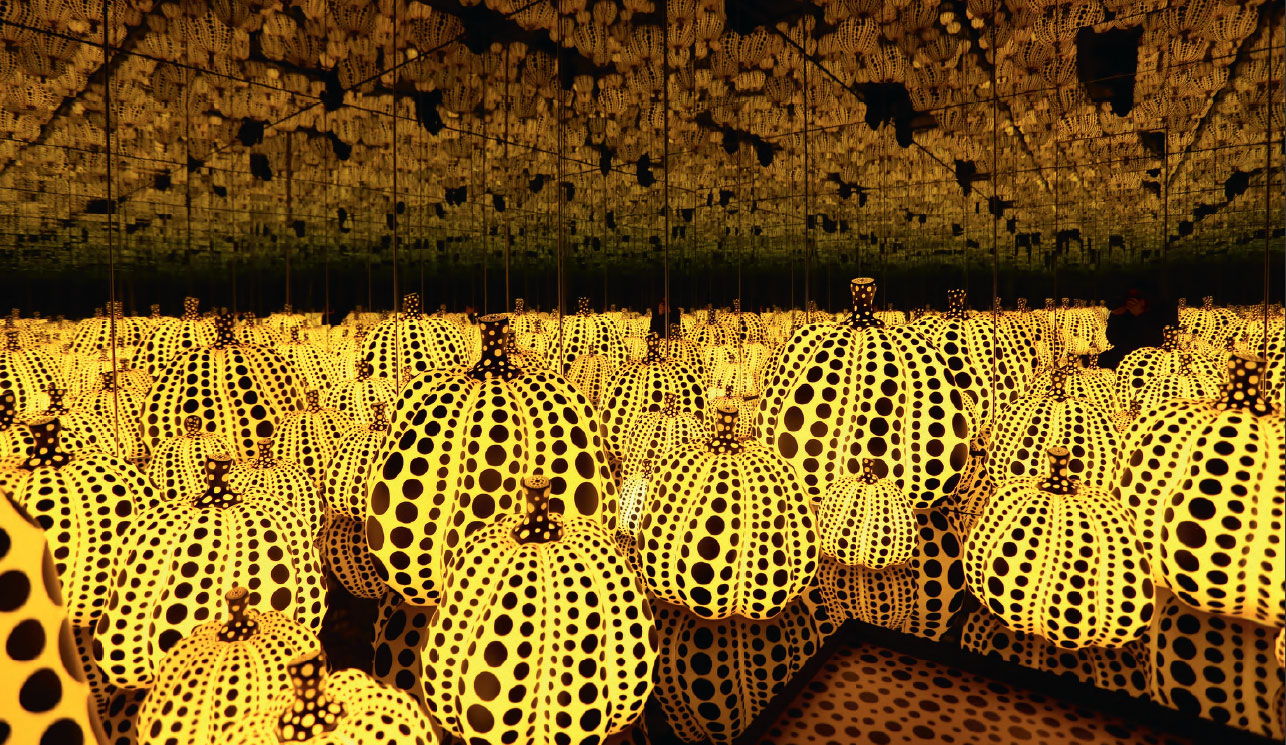 Other tips
Go to a maid cafe in Akihabara, robot restaurant in Shinjuku, animal cafe (check out cats, dogs, birds, owls…), an ikebana class or do karaoke.
That was it for the tips, enjoy your trip! I guarantee your first trip to Tokyo will be one the most memorable experiences in life 😉